Physician Perspectives: Are Prior Authorization Changes for Colonoscopies on the Horizon?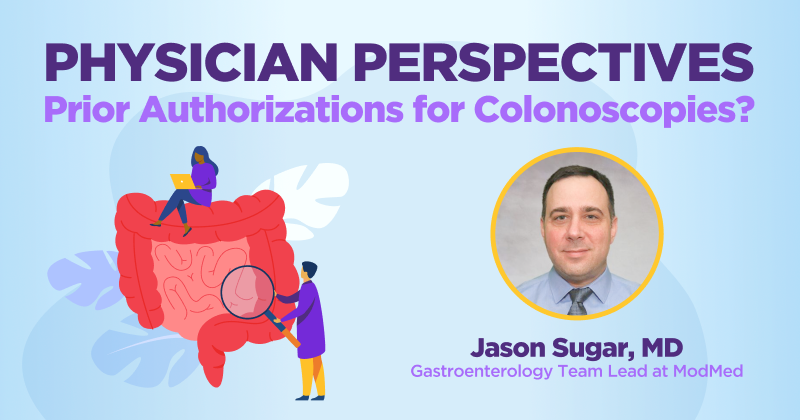 Gastroenterologists worry that recent payer proposals could be a prelude of what's to come
Our reaction series, Physician Perspectives, spotlights healthcare trends and updates that matter to providers. The series includes views from physicians across the industry.
On June 1, 2023, an insurance company's controversial new requirement was supposed to go into effect. It would have required physicians to obtain prior authorization for certain endoscopy procedures. Instead, that company decided to change course.
Critics of the proposal, which included many gastroenterologists and practices, expressed concern that proposed prior authorization changes could potentially delay patients' access to endoscopic procedures, including cancer diagnostic and surveillance procedures.
While the proposed policy would have exempted screening colonoscopies for low-risk individuals, requirements for prior authorization would have applied to diagnostic and surveillance colonoscopies, affecting high-risk patients who are in greater need of care.
While the payer is no longer proposing prior authorization for commercial beneficiaries seeking nonscreening colonoscopies and other gastroenterology endoscopy services, it now requires "advance notification" from providers for these services.
"Prior authorizations aren't always completed efficiently, and delays in diagnosis could be detrimental to patients. So, I'm glad there has been a change in direction, but 'advance notification' isn't the answer either. It is somewhat vague and still places a considerable administrative burden on physicians," explains ModMed® Gastroenterology Team Lead Dr. Jason Sugar.
As part of the advance notification requirement, providers must gather and send patient information to the payer via their online platforms or over the phone before carrying out a procedure, as part of the prenotification process. The payer's policy for routine colonoscopy screenings remains unchanged.
In turn, providers who abide by "advance notification" would be eligible for a program that would allow them to perform a wide range of medical procedures without obtaining prior authorization.
According to an article from CNN, the American Gastroenterological Association has expressed concern that "advance notification" could still create "significant administrative burdens" for medical staff.
There is also some speculation that the payer will try to use the data that's being collected to prove that colonoscopies are being overutilized. Could this lead to prior authorization in the future? Only time will tell.
While this proposal that would require prior authorizations has been scrapped for now, organizations like the American Medical Association (AMA) have been campaigning against what they believe is an "overuse of prior authorizations."
According to one of the organization's recent surveys, 82% of physicians say that prior authorizations "can lead to treatment abandonment because of prior authorization struggles with their insurance company." This concern is particularly relevant for colonoscopies and other procedures that have low patient enthusiasm due to their invasive nature.
Other concerns related to prior authorizations are highlighted by Becker's ASC Review, which notes rules may be subject to sudden or frequent changes. As a result, physicians and their staffs may not be confident they know which procedures are approved or not. Confusion can trickle down to patients, who often require financial clarity and transparency to plan medical care.
Becker's also reports that it conducted an informal survey where physicians responded that increases in prior authorizations are contributing to financial pressure and making adequate patient care increasingly difficult.
"Lowering the administrative burden for physicians and improving patient outcomes is what ModMed is all about. I'm not sure what the future holds for prior authorizations, but I know that reform is imperative." said Sugar.
Short on Staff and Need Help With Prior Authorizations?
Already use our software? You can outsource all or a portion of your billing processes to ModMed gBOOST™ RCM.*
Our experienced billing team can manage prior authorizations, help with any denials, file claims and more.
*Available for an additional fee.
This blog is intended for informational purposes only and does not constitute legal or medical advice. Please consult with your legal counsel and other qualified advisors to ensure compliance with applicable laws, regulations and standards.
​
​