ModMed Medical Director Dr. Michael Brickman Has Plans to Help Plastic Surgery Meet Emerging Demands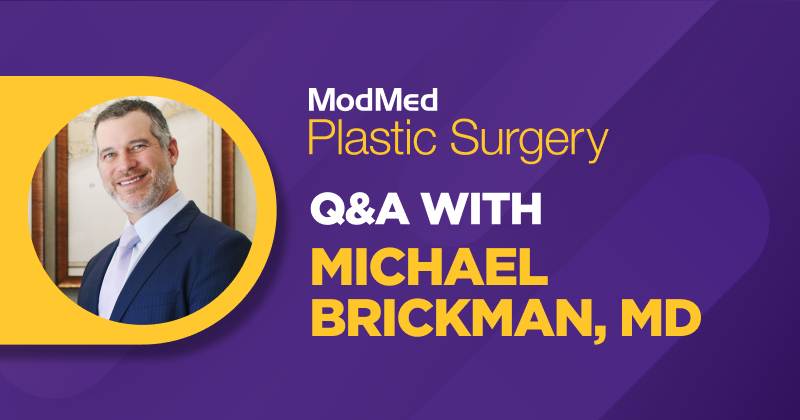 Dr. Brickman shares how software built by plastic surgeons can elevate your practice operations
Dr. Michael Brickman is a board-certified plastic surgeon and our Medical Director of Plastic Surgery. He is a user of our EHR, EMA®, and takes a pragmatic view of the challenges facing plastic surgeons today. As plastic surgery procedures become normalized in society, other shifts follow: increased demand for services, broader patient populations that span ages and lifestyles, and higher expectations for certain outcomes.
Reputational management has changed dramatically alongside demand. Patients have developed a culture around their engagement with plastic surgeons. Which surgeon they saw for which procedures, what they spent, and how they judge outcomes was once a private matter. Now, it's a matter of social standing, freely discussed online in reviews and social media accounts.
Here, we chat with Dr. Brickman, who shares more about how ModMed® is evolving its support of plastic surgeons with our specialty-specific plastic surgery EHR and other solutions.
The following is excerpted from an interview with Dr. Brickman and represents his opinions and experiences.
ModMed: What drives your passion for plastic surgery?
Dr. Brickman: The moments of my career that have meant the most to me have a common theme of helping someone — and not just helping them, but helping them in a way that they appreciate.
There are certain procedures that we know tend to have higher patient satisfaction rates, but, going into surgery, you don't always know what kind of impact you'll really have on an individual, because everyone is different.
Sometimes, it's dramatic, like when someone has been mauled by a dog and you can reconstruct their face for them. I've been able to reattach a thumb after a table saw accident. Other times, it's a more common procedure, like a breast reduction, where the woman can put her shoulders back comfortably and wear clothes she prefers — and she tells me she feels comfortable in her own skin for the first time.
ModMed: Since you have a history of high patient satisfaction, why did you decide to join ModMed? Why not continue to focus solely on surgery?
Dr. Brickman: It's actually become a little bit of a joke with other doctors who know me, because I've typically been vocal about liking the documentation part of my job the least and now I'm a director for an EHR provider — but I don't think I'm alone in feeling that way over the years.
Medical documentation has become so bloated. I've been doing this for more than 15 years and, at the beginning of my career, documentation requirements were becoming more intense, compared to what it was like for older physicians. Over time, I was spending more and more energy on things that didn't feel to me like they aligned with why I'm a plastic surgeon.
It inspired me to seek easier, more streamlined ways to optimize documentation and other practice management responsibilities — so I can get back to focusing on patient care and outcomes. That's a core value at ModMed, too.
ModMed: How will that impact your objectives and strategies in your new role?
Dr. Brickman: Before I joined ModMed as Medical Director, I was a ModMed user, so I understand our user persona and the mindset of other plastic surgeons when working with EHRs. There are two main tracks I'll be developing to serve our users. One is related to how we surface and select new features to develop, and the other is related to how new features work within our all-in-one solution for plastic surgeons.
As plastic surgery or any other specialty evolves, it's normal for a solution like ModMed to make updates. It's how the software continues to meet needs, and sometimes, we'll hear directly from plastic surgeons or their teams about how they would like a new feature to be developed alongside their practice's evolution. The agility of our responses is key to how these users can manage their operations and continue to take care of patients.
Then, as we develop new features, it becomes just as important to ensure that workflows are as smooth as possible. That might mean something like eliminating redundancies that occur as new features launch, so that practices can maintain speed and organization when working in our software. It could also mean reorganizing certain workflows to reflect new trends, like the idea that many surgeons are performing higher numbers of procedures at once more frequently than before.
ModMed: What do you believe sets ModMed apart from other solutions?
Dr. Brickman: ModMed is designed to support providers in their practices. Because physicians direct software development and get involved in coding, the solution reflects the demands of real-world scenarios, allowing providers and their teams the opportunity to satisfy the operational requirements of the work with simplicity. The ease of use sets it apart from any other EHR available.
Interested in learning more about our comprehensive software suite for plastic surgery practices? Experience it today!
About Michael Brickman, MD
Dr. Michael Brickman is the Medical Director of Plastic Surgery. He is a board-certified plastic surgeon who has been in private practice in Huntington, NY, since 2007. After using two other EHR systems, he switched to ModMed in 2017 and never looked back. He is pleased that ModMed will be the last EHR he will ever need.
As Medical Director, Dr. Brickman's goal is to field suggestions and recommendations from his fellow EMA users and continue to make improvements to what he feels is already the best product in the space. As the product keeps improving, so do the practices using it.
Dr. Brickman received his bachelor of arts degree in biology from Indiana University and his medical degree from St. George's University School of Medicine. He graduated from his general surgery residency at the University of Hawaii and completed his plastic surgery training at Nassau University Medical Center, which is run by the Long Island Plastic Surgical Group.
This blog is intended for informational purposes only and does not constitute legal or medical advice. Please consult with your legal counsel and other qualified advisors to ensure compliance with applicable laws, regulations and standards.
​