Get ready. Your workday is about to get better. One WOW Moment is all it takes.
You don't have to live with the limitations of your outdated system any longer.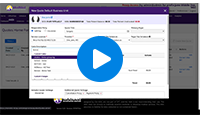 Estimate charges for patients
Create & track packaged services
Practice Management's quoting tool includes a quote bank with trackable statuses, helping you see what converts to a bill after your patient e-signs.
Practice Management includes package management, tying packages to appointments and deducting services as they're provided.
EMA®, our plastic-surgery-specific EHR system, interfaces with iPad drawing tools so you can draw on patient photos for procedure consults.
Practice Management allows you to set up customizable patient recall messages to engage patients to schedule their follow-ups.
EMA®, our plastic-surgery-specific EHR system, allows you to scan in your forms and stores them in-chart for patients to sign via Portal.
Analytics uses data from Practice Management and EMA®, our EHR system, to show cosmetic business trends and high-level reports.
Set auto-generated patient recalls
Reduce scans with stored PDFs
Simple & clear cosmetic analytics
Gregory A. Greco, DO, FACS, Monmouth Plastic Surgery
"With ModMed Kiosk, we can hand the patient an iPad at check-in, which facilitates the intake and registration process and saves time. It reduces the patient's time filling out forms and the front desk's time on manual data entry."
P. Daniel Ward, MD, Ward MD Facial Plastic Surgery and Form Spa
"With the quoting tool we can quickly create a quote, which simplifies the process and improves the patient experience. We can enter multiple procedures to include the surgeon, anesthesia, and facility fees along with inventory items."
Gail Lanter, Practice Manager, East Cooper Plastic Surgery
"Our no-show rate is almost non-existent with the help of Patient Reminders and our staff saves hours of time making phone calls."
Didn't see your WOW Moment?
Tell us what you want to see.